The Eclipse Season Begins…
Ends and New Beginnings.
love, in lak'ech,
Debra
PARTIAL SOLAR ECLIPSE ON OCT 25TH: The Moon is about to take a bite out of the sun. On Oct. 25th, a partial solar eclipse will be visible from Europe, the Middle East, parts of Asia and Africa: map. Almost all of Europe is in the eclipse zone with the deepest eclipse in the Scandinavian countries: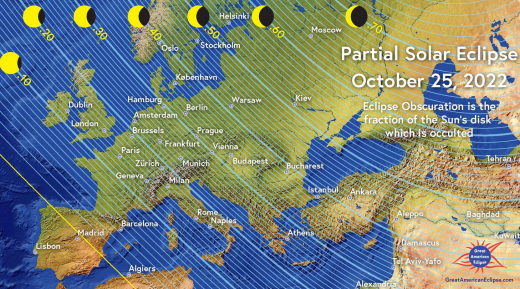 Image credit: GreatAmericanEclipse.com. See also their global eclipse map.
SPACEWEATHER.COM
Maximum eclipse occurs at 11:00 UT in northwest Russia where 86% of the solar disk is covered. There, the chill of the Moon's shadow will be felt on the ground as the sun transforms itself into a slender crescent. WARNING: Even the tiniest sliver of sun left uncovered by the Moon can hurt your eyes. Eclipse glasses are recommended for safety.
Observing tip: If you're in the eclipse zone, try looking down. Beneath a leafy tree, you might be surprised to find hundreds of crescent-shaped sunbeams:

The eclipse that changes everything | Solar Eclipse | 25th October | Punneit