SUN'S PEAK ACTIVITY: AN 11 YEAR CYCLE
Twenty-six years ago, researchers discovered seismic activity on the sun. A team led by Dr. Alexander Kosovichev, then at Stanford University, found circular waves rippling from the core of some solar flares, like this: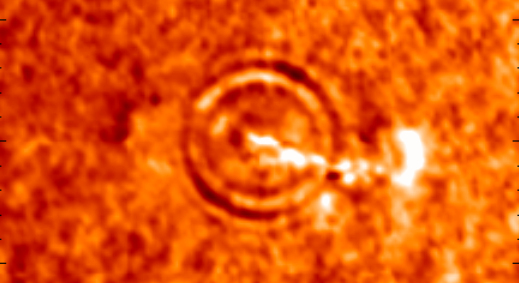 Above: The first known sunquake, recorded by SOHO on July 9, 1996. [more]
They named the tremors "sunquakes"–much like earthquakes except incredibly more powerful. A typical sunquake contains 40,000 times the energy released in the great San Francisco earthquake of 1906. These solar seismic waves appear to be compression waves like the "P" waves generated by an earthquake. They travel through the sun's interior and probably recombine on the opposite side of the sun to create a faint duplicate of the original ripple pattern.
SPACEWEATHER.COM: May 13, 2022